Pretty much everyone knows that baking soda is used for cooking. You might even know about using it as an odor neutralizer in your fridge or for various cleaning tasks around the home, but we bet you've not heard of all the beauty uses for baking soda.
Today we're sharing how you can use it for your face, teeth, hair, body, hands, and feet. You'll be amazed by what it can do!
Beauty Benefits Of Baking Soda
Baking soda is incredibly versatile and can be used to treat a lot of different issues. Following is a list of the 10 different beneficial ways in which you can use baking soda.
Note: Please ensure that you are using baking soda and not baking powder for the following remedies to be effective.
1. Get soft hands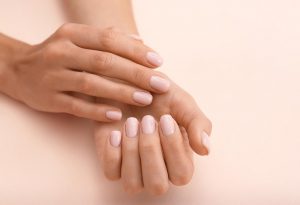 Baking soda will work miracles for hard, dry skin on hands.
Just make a paste that's 3 parts baking soda to 1 part water. Rub the paste onto your hands in a circular motion, then wash your hands so that all the baking soda is rinsed off. You can follow up with moisturizing hand cream for good measure.
2. Remove hard skin on feet
Your feet go through a lot, so it's important to look after them. Just as you would wash your hair, you should take time to soak your feet.
Take a large bowl big enough for both feet to fit in and pour in a few spoonfuls of baking soda. Fill it up with warm water and dip your feet in for 15-20 minutes. Exfoliate dead skin from the soles of your feet using more baking soda. Rub the powder into your skin in a circular motion.
3. Clean fingernails
A nail brush will only clean so much of the grime under your nails. Use baking soda to get them sparkling.
Dip a nail brush into a bowl of baking soda and scrub under nails and around the cuticles.
4. Remove calluses
Calluses can be painful, but you don't have to suffer! Take a bowl large enough for both feet and add 1tbsp of baking soda and a few drops of lavender essential oil. Soak your feet in the water for 10-20 minutes.
Next, make up a paste of 3 parts baking soda, 1 part water and 1 part brown sugar and use to exfoliate. The mixture will scrub the calluses away. Finish treatment with a foot cream.
5. Add volume to hair
Volumizing shampoos never really do what they promise on the packaging but could a baking soda shampoo do the trick? Get the results you want by adding 2 tsp of baking soda to your favorite shampoo and wash your hair as normal.
6. Homemade dry shampoo
Stuck in a pinch? Sprinkle a small amount of baking soda to your scalp and rub in with your fingertips to absorb unwanted shine.
7. Clean hairbrushes
This one isn't technically a use for your hair, but hair brushes come pretty close!
Remove as much hair as you can from the brush first and then prepare to wash. Fill a bowl (large enough to fit your hairbrushes) with warm water. Add 1 tsp of baking soda and soak the brushes for 20 minutes. Remove the brushes from the water and leave to dry on a towel.
If there's any leftover grime, you can use an old toothbrush to scrub it away.
8. Fix chlorine damaged hair
Been swimming and just can't get rid of that awful smell? Baking soda can help to strip product build-up from hair and neutralize odors. Use a 1:1 ratio of liquid castile soap and baking soda. As the powder will be stripping product from your hair, you'll want to use plenty of conditioners afterward.
It's also thought that baking soda can help promote hair growth because of the way that it strips product build-up. It could be worth a try!
9. Hair removal
Remove hair naturally and without all the pain of waxing with this natural solution. Mix together 2 parts baking soda with 1 part turmeric and then add a few teaspoons of water to form a paste. Spread the mix on the patch of unwanted hair and leave to dry.
Remove the dry paste by rubbing it off with your hands or a dry towel. Shower to remove any residue and color left by the turmeric.
10. Baking soda face mask
Face masks are perfect for an at-home spa experience. Take some time to relax with this easy recipe. Mix together 1 tsp of baking soda and 2 tsp of coconut oil in a small bowl. Apply to clean skin and leave on for 5 minutes. Wash off with warm water, followed by cold water to close the pores.